All News
Radio Show on Current State of AI in Medicine, Seoul (March 24, 2016)―Medexter's CEO and Scientific Head Prof. Dr. Klaus-Peter Adlassnig gave a live interview for a South Korean radio show on developments and current state of artificial intelligence in medicine. You can listen to the radio show here.
Presentation at IFIC, Vienna (March 17, 2016)―Members of the Medexter team gave a presentation on "Intelligent IT in adverse healthcare event prevention and control" at the IFIC 2016 Conference (International Federation of Infection Control) in Vienna, Austria.
Medexter at Arab Health 2016 in Dubai (January 25–28, 2016)―This year for the first time, Medexter participated in the Arab Health exhibition in Dubai as part of the Austrian Expert's Corner in Za'abeel Hall.
Lecture on Current State and Future of Arden Syntax (July 21, 2015)―CEO and Scientific Head Prof. Dr. Klaus-Peter Adlassnig held a colloquium lecture at the Department for Medical Informatics, Erlangen University in Erlangen/Germany on "Stand und Zukunft von Arden Syntax – Fortschritte in Intensivmedizin, Krankenhaushygiene und Qualitätsmanagement".
ArdenSuite at the Bern University of Applied Sciences (July 20, 2015)―The Bern University of Applied Sciences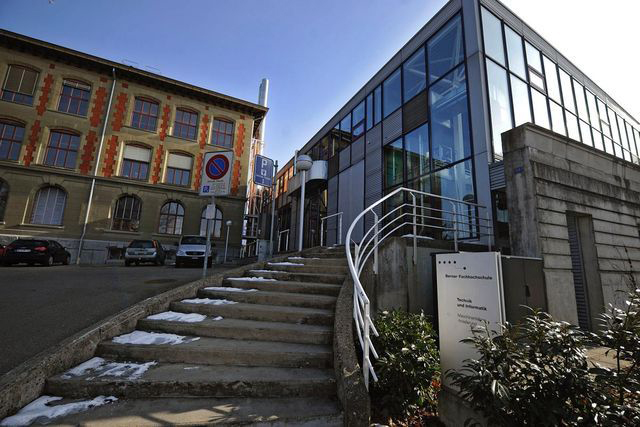 in Bern/Switzerland purchased the ArdenSuite license for research and teaching purposes. Working with Medexter's ArdenSuite integrated development and test environments (IDEs), ArdenSuite servers, and server connectors will be part of their Medical Informatics bachelor curriculum.
Medexter at eHealth Summit Austria's Industrial Exhibition (June 18–19, 2015)―In the beautiful setting of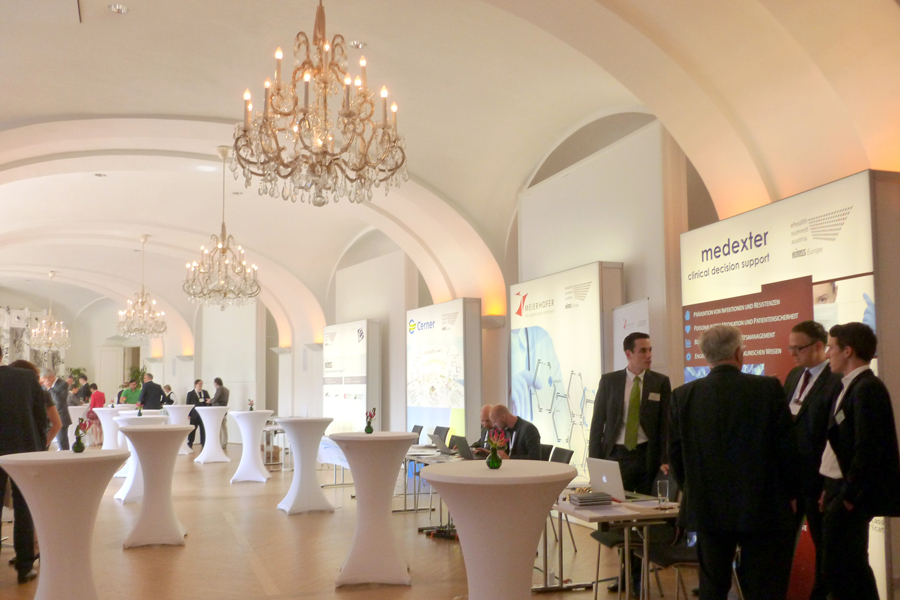 Schönbrunn Palace, the health-IT event of the year took place in form of a double conference hosted by HIMMS Europe: eHealth Summit Austria and PDMS Conference D.A.CH. caused professionals in the health IT sector to congregate in Vienna in the end of June.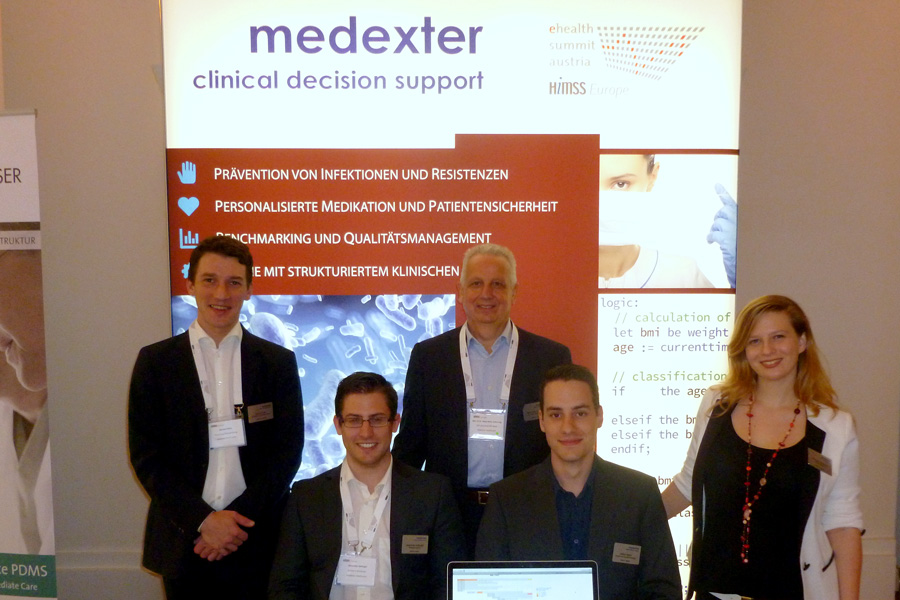 As one of the summit's industry partners, Medexter Healthcare was part of the trade fair, where members of the Medexter team presented our products and solutions at our booth. A guided tour, the so called "summit walk" gave interested parties a chance to hear short presentations on the companies' products, followed by a Q&A session with the visitors. As always, Medexter greatly benefited from the exchange and conversations with doctors, IT professionals, and fellow providers of health IT solutions.
Scientific Contributions at eHealth Summit Austria (June 18–19, 2015)―As part of eHealth Summit Austria's scientific programme, a workshop on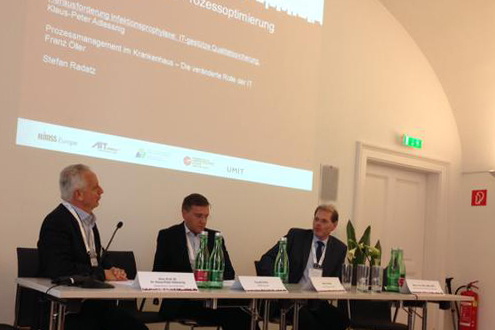 "Klinische Entscheidungs-unterstützung in der Praxis – HL7 Standards, Interoperabilität und ausgewählte Anwendungen" was co-hosted by members of the Medexter team on the first day of the conference. On the second day, CEO and Scientific Head Prof. Dr. Klaus-Peter Adlassnig gave a presentation on "Herausforderung Infektionsprophylaxe: IT-gestützte Qualitätssicherung" as part of the summit's HIMMS track. A lively discussion between the sessions's lecturers and the audience ensued.
Arden Syntax training course in Vienna (June 17, 2015)―For the second time, Medexter―in cooperation with Health Level Seven (HL7) Austria and the FH Technikum Wien―hosted a free one-day Arden Syntax training course. With the number of attendees more than doubled in comparison to last year's course, CEO Klaus-Peter Adlassnig and Medexter's Arden Syntax project leader Karsten Fehre presented a variety of topics such as clinical decision support, knowledge-based systems, medical logic module (MLM) programming, ArdenML, linguistic and propositional uncertainty, technical integration, clinical applications, barriers and acceptance in clinical routine, and others. The course's morning session was designed for Arden Syntax beginners and laypeople, whereas in the afternoon session, advanced topics were discussed. Attendees were students, doctors, journalists, health-IT personnel, and researchers. Medexter received great feedback, and we will be hosting another training course soon. Please let us know if you are interested in a training course.